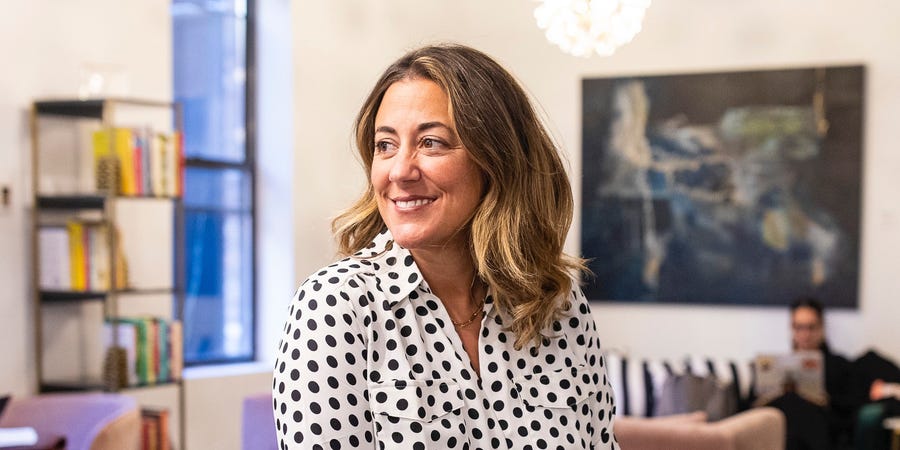 Coworking spaces have been hit especially hard during the pandemic's period of social distancing.
But Luminary is not — nor has it ever been — just a coworking space, and the features that set it apart have helped it survive and grow during an extraordinarily challenging time.
"For me, it proves that our hypothesis of focusing on sustainability and profitability first, versus just growth and revenue is the right way to look at it," she said.
The COVID-19 pandemic has pummeled coworking-space providers especially hard, forcing many would-be WeWorks and Wings to close permanently after three months of social-distancing measures.
But Luminary founder Cate Luzio will tell you — as she has since day one — that her midtown Manhattan collaboration space is more than the exposed brick walls and sliding glass doors.
"Ninety percent of our members say the reason they come here is for community and connection," Luzio told Business Insider in an interview in which she discussed the recent reopening of Luminary's physical space and the steps she and her team took to get through the shutdown.
Luminary's success during the worst economic calamity in modern history is a function of both how Luzio built the business in the first place and the philosophy by which she guides it.
It's important to note that while Luminary has a more devoted membership than you might expect to find from its peers, it is also privately owned and financed by Luzio herself.
"We were self-sustaining. I didn't have debt, and I had this strong balance sheet," she said. "We were growing sustainably, versus growing for the sake of growth."
No investors meant that Luzio didn't have to ask anyone else for permission to respond when the public-health crisis began to unfold in March.
Make a plan before it's too late
By the second week of March, Luzio understood the writing on the wall to mean that virtual collaboration was going to be an unavoidable feature of life going forward. In response — and as she does in all things — she made a plan.
She coordinated with one of her top staffers, set up a commercial Zoom account, and launched original programming the next day with her longstanding corporate partner UBS called "Don't touch your face, don't touch your 401(k)" that had over 200 registrations.
As that first virtual event was underway, Gov. Andrew Cuomo was announcing his order that all nonessential businesses shut down to slow the spread of the pandemic.
Luminary has since convened more than 250 virtual events led by members and some of the company's many corporate partners, including JPMorgan, Mastercard, Insperity, and WW. By contrast, Luminary held 200 in-person events in all of 2019.
Make space for your team's ideas
A week after Luminary closed its doors, Luzio herself came down with a COVID-19 infection, which she battled for five weeks.
"There was no real opportunity for me to just put everything on ice. I'm fortunate that I have an incredible team that really stepped up, and I think I would never have seen some of their skills had this not happened," she said.
By and large, Luzio said the transformational ideas that have buoyed Luminary these past three months were "not Cate ideas, but ideas from the team."
Giving her team the latitude and support to experiment quickly has allowed Luminary to accomplish more in three months than what Luzio would expect to see in a full year. As a result, the company offers a digital library, a directory of women-led businesses, a T-shirt fundraising campaign, and new digital memberships.
These new offerings took Luminary global. "Now we have members from all over the world: Senegal, Barbados, London, Hong Kong, San Francisco, Colorado, Ohio," she said.
Look at the data and commit to a strategy
After about a month of pivoting a highly in-person business into a very online brand, the Luminary team started working on its plan to start inviting members back to their midtown Manhattan location.
"We had to look through every scenario you can think of on planning and readiness," Luzio said.
With a close eye on the virus' spread and messages from public officials, the team mapped out detailed strategies to open safely.
Communication with existing and prospective members was essential to inspire the confidence that everyone's health concerns were addressed.
As Luzio does in all aspects of her business, the final action plan was neither fully top-down nor bottom-up, but an informed hybrid of the two.
"Once we had all the information and data what we needed," she said, they were able "to make these right decisions."
As the weeks ticked by, Luzio estimated she spent nearly $25,000 on initial safety measures, including signs, sanitizer stations, contactless fixtures, and interior-design updates. What that number doesn't include: modernizing the heating, ventilation, and air-conditioning system, as well as the ongoing expense of consumable supplies and all-day-long cleaning services.
When she was asked about what made Luminary different from its peers and competitors who are struggling right now, Luzio said she was "heartbroken" for them.
"No one could have expected this," she said. "But for me, it proves that our hypothesis of focusing on sustainability and profitability first, versus just growth and revenue, was the right way to look at it."