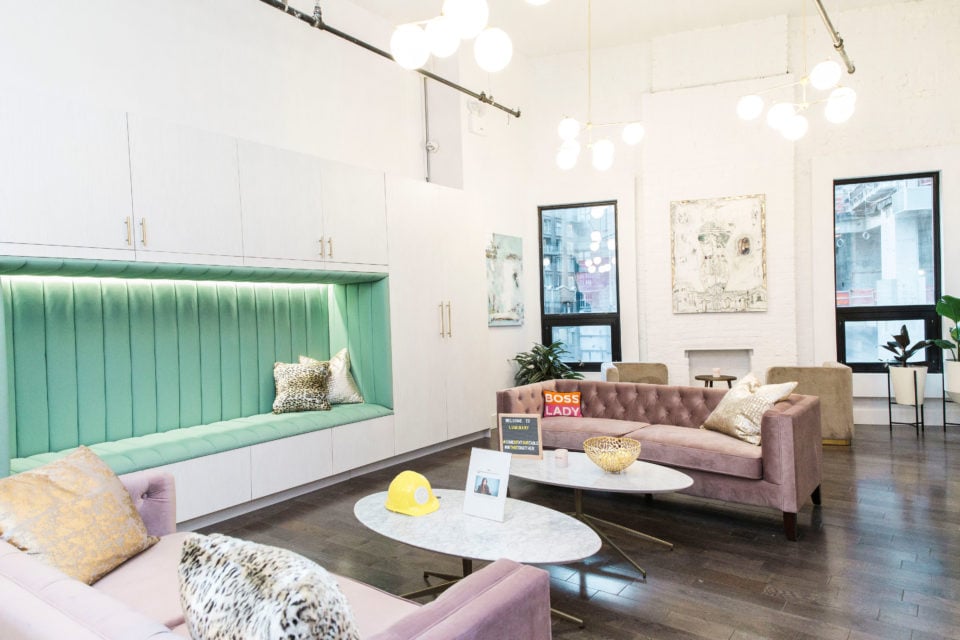 In this day and age, co-working spaces are popping up everywhere—especially in New York City. Whether you're freelancing or working a side-hustle, finding a place to get in the zone is about more than just fast WiFi and caffeine. It's about the community, the events, and the overall atmosphere. Recently, I visited three not-so-traditional communal workspaces that allow you to multitask. You can network with like-minded creatives, check off your to-do list, and most importantly, feel motivated! As we delve into the new year, there's nothing like finding a zen sanctuary that best fits you.
1204 Broadway (NoMad)
The definition of "luminary" is a person who inspires or influences others. A guiding light, an inspiration, a role model, a heroine, a leader. A J.P. Morgan team member used the word in a LinkedIn message to Cate Luzio while congratulating her work as a National Board member for Girls Inc. For Cate, this was her lightbulb moment.
Luzio had already thought about opening a collaboration hub for passionate career women—she just needed a name. "That's what I wanted to create a space for: all women to be luminaries," says Luzio. About a year ago, she became the CEO and Founder of Luminary.
She has occupied leading roles in financial services for more than twenty years, most recently at HSBC. After leaving her successful career in banking, she created a business plan and self-funded Luminary. Luzio thoughtfully selected every detail of the space, from a "Boss Lady" pillow to an oval-shaped marble table. The 15,000 square-foot-space includes two floors of conference rooms, meditation rooms, and lactation rooms. Luminary doesn't stop there– it also boasts a rooftop deck, a fitness studio, a beauty bar, and wine on tap. Plus, the programming calendar includes plenty of educational events and panels.
Let's break down the silos and create a space where all women can thrive and succeed.
At Luminary, no application process is needed! There is a range of memberships (from $150-$400 monthly or $1,600-$4,300 annually) and $40 day passes that are half off for university students. After all, Luminary is about inclusivity. Like Luzio says, "Let's break down the silos and create a space where all women can thrive and succeed."
1264 Lexington Avenue (Upper East Side)
Finding Maison is like finding a speakeasy. You typically have to hear about it via word-of-mouth—or read about it in an article. On the outside, the private club looks like any other historic building on the Upper East Side. However, there are no elevators or doormen—they have to buzz you in. Upon stepping inside the space on the second floor, you'll see that it's not so ordinary in the world of Maison.
I want people to feel like they are visiting their best friend's house.
From scalloped leather wall tiles to a hanging swing chair in the common area, the space is refined but approachable. "I have always been drawn to beautiful designs that are also functional," says Ashley Wu, founder of Maison. "I want people to feel like they are visiting their best friend's house and able to help themselves to a mug of coffee or get down to work."
Wu had run a style blog called Exposed Zippers then opened Maison in 2019. After having her second child, she realized there was no place in her neighborhood to "steal a quiet moment" for writing. Their events schedule includes manicures from Sundays nail studio, MNDFL meditation sessions, fireside chats, and lunches featuring guest speakers on current events. The haven was designed with women in mind, but it is open to all genders and most members are over 30.
There is an application process, but Wu uses the information to know members on a personal level and better serve their needs. Membership rates are $325 monthly or $3,300 annually, after a one-time initiation fee of $275.
As for the future of Maison? "It's great to hear my son (who's five) talk about how he wants to take it over when he's older," says Wu. "When we were under construction, it was fun to bring my kids here and show them how hard I was working to do something I felt was meaningful and seeing them support me as they understood it at their age." Here's to the beginning of a legacy.
17 John Street (Financial District)
Who knew the Financial District could feel so much like the jungles of Peru?Inside Assemblage, there are 15 floors designed with the idea of biophilia in mind. According to biologist Edward O. Wilson, humans need to live in natural environments and alongside living systems. Rodrigo Niño kept this philosophy in mind as he founded his lush co-working and co-living space. An economist and real estate developer, Rodrigo breathed life into Assemblage after being diagnosed with stage 3 Metastatic Melanoma cancer in 2011.
Humans need to live in natural environments and alongside living systems.
After two surgeries, he traveled to Peru to take part in an Ayahuasca ceremony. "Really, what I found in the unknown was that it was more familiar than my idea of home. It also felt more real than this physical reality I knew," says Niño in The Assemblage's origin story video. "And then I experienced this field of invisible energy that somehow binds all living things together." This experience led Niño to create The Assemblage with the mission to bring creatives, thought-leaders, and entrepreneurs together to better each other's work lives and well-being.
The Assemblage offers daily wellness programming three times a day including complimentary yoga, sound meditation, breath work, and movement classes. There are work stations, conference rooms, outdoor terraces, a rooftop deck, a restaurant that serves Ayurvedic meals, an elixir bar, and more. Rates start at $70 a day, or $495-$2,500 a month. Each visit feels like a vacation in itself, minus the plane ride and jet lag if you're a New Yorker. The Assemblage also has two locations in NoMad, waiting to welcome you with a dose of positive energy.