This article originally appeared on THE OUTNET: https://www.theoutnet.com/en-US/campaign/workwear
How do you start your day?
Check email, then coffee. Scan the news and review my calendar. Shower. Critical outfit selection (always a great part of my morning). I like to get a jump on the day, scratch a few items off the to-do list, and then it's pretty much non-stop meetings all day.
Do you think what you wear impacts how you perform at work?
Absolutely. I feel clothing and style is a big part of who I am. I love to shop, and selecting what I wear sets the tone around presentation and my brand. Clothing helps to allow you to be who you are, authentic and real.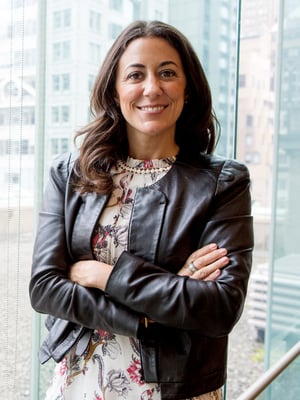 How do you incorporate a sense of individuality into your workwear?
For years, I walked a fine line in the banking world with my style (before I left to start Luminary), but I figured out how to present myself professionally and show who I was. I needed to still be me and highlight my own style – for example, my signature leather jackets!
Which of your work achievements are you'd most proud of?
If you'd asked this question a year ago, I would have said my career path and acceleration in finance and the businesses I built within the banks I worked for. Fast-forward to now, and I am most proud of taking this huge risk in my life and career in launching my own company. It's a rollercoaster, but I am proud of focusing on where I am passionate and doing something about it.
What are your go-to brands for workwear?
Diane von Furstenberg, Jason Wu, J Crew, Sandro, Rebecca Taylor, Rebecca Minkoff, Whistles, Céline (for the handbags), Saint Laurent for heels and Roger Vivier for flats.
Who or what makes you feel empowered?
My own network of supporters, particularly women. I've never felt that more than I do now launching Luminary. But we have to empower ourselves, too. I empower myself. My parents raised me to be strong, to take risks and to go after what I wanted – but to be kind and support others along the way – and to stand up for what I believe in. That's who I am. But, it doesn't hurt that my mom is my style icon and always said, 'Dress to impress.' I feel empowered quite a bit by what I wear and how I present myself.
Do you have a work 'uniform' or do you switch up the way you look in the office regularly?
I definitely switch it up. I like playing with different looks and brands and having a bit of fun. However, my staples are leather jackets, a great bag and heels.
Who is your biggest female inspiration/mentor?
My mom. There is no one else I call or lean on more. She is always there to listen, to guide and to provide unbiased advice. Every single big decision or risk I have taken in my life and career, she's been a huge part of. I think of The Wizard Of Oz, with Glinda [the Good Witch of the South] telling Dorothy, 'You had the power all along, my dear.' She's not only my mentor, my mom, my best friend – she's my Glinda.