As we kick off August, I wanted to remind our community that July was Disability Pride Month and I'd like to take some time to reflect upon my work here at Luminary as a woman on the autism spectrum. Creating an anti-ableist space where people can come as they are is important to me, and it is why I love what I do. Working as one of Luminary's Community Managers makes me feel valuable and proud. I have been working here for over three and a half years (since Luminary launched) and have gotten to know many Luminary Members and Luminary staff. While I feel my unique skill set and neurodiversity is celebrated at Luminary, I know that this is not the case for disabled women universally.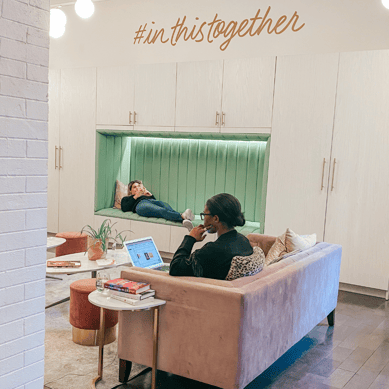 Only 31.9% of women with disabilities between the ages of 25 and 54 were employed compared to 37.1% of men. Additionally only 16.8% of disabled women make accommodation requests at work. An accommodation is an adjustment or change that the employer can make so that the person with a disability can successfully complete their job. If you have a disability you are legally entitled to fair and reasonable accommodations under the ADA. Some accommodations that help me on the job are clear and written instructions, as well as a flexible schedule.
Wondering how your workplace can be more accessible to people with disabilities? Here are some ideas I have to share with you:
1. Hire us!
The first step towards being inclusive of those with disabilities is to make sure that they are represented in the workplace. With 1 in 5 adults having some sort of disability, it is important that we are included. People with disabilities can make great employees and it's important to have them as part of your team!
2. Provide support for your employees with disabilities.
Supports can include accommodations, job coaching, assistive technology or other forms of help. Accommodations can vary widely from person to person but can help people with disabilities successfully complete their job.
3. Commit to making anti ableist spaces and communicate your commitment to the disability community throughout your company.
Make sure your disabled staff feel comfortable and accepted when discussing their disability and make sure all levels of your organization are aware and accommodating of differences!
4. Know you benefit from hiring people with disabilities too.
While inclusion is so important it is not the only reason to hire people with disabilities - research shows it's good business! Some research has shown that people with disabilities have lower turnover rates and lower absenteeism than people without disabilities. Some other studied benefits include higher staff morale, and you may be eligible for tax credits or other incentives.
5. Educate yourself and others about employment of people with disabilities.
People with disabilities often face barriers to employment. Be aware of certain misconceptions you may have when hiring and remember to include us. As the autistic community likes to say "Nothing about us without us!"
I want to extend my deepest thank you to the Luminary community that has embraced me with open arms, and I want our Members with disabilities to know that they are accepted here, for every part of who they are.