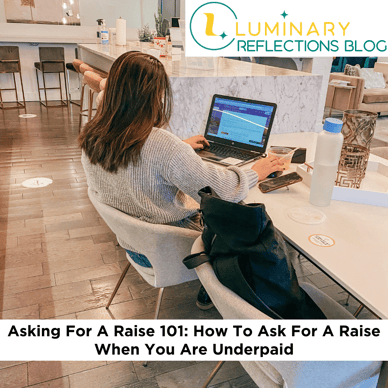 After the great resignation, workers feel entitled to their just desserts now more than ever. These rewards include, but are not limited to, employee benefits and a livable wage. It shouldn't be too much to ask, yet women in the workforce still make 70% compared to their male counterparts. And that is why women should be vocal and adamant about not working for less than they deserve. If you are underpaid, consider asking for a raise.

Asking for a raise can be scary and can feel quite awkward in the moment. Many women were taught to be complacent and polite from a young age, making the ask even more daunting. The key to anything is preparation. Prepare for asking a raise like you would a board meeting or presentation.
Here is a 101 guide on how to ask for a raise when you are underpaid:
Make sure the time is right.
Even if the request feels fair and justified, there are reasons to hold off on asking for a raise. Ask yourself a couple of questions first. How is your relationship with your current manager? And how is your company doing right now? If the answer to either of these questions is "poor," it's probably best to wait. A bad relationship with your manager can leave you in a vulnerable position. And, if your company isn't doing well financially, there is little chance of them extending a hand towards their already underpaid staff. However, if you're in good standing with your manager and your company is succeeding, the time may be ripe to ask for a raise.
Do your research
In the modern age, everything can be found on Google. A simple search with show you the average pay of similar roles. Compile data on what other professionals in your field make, from Google and from asking around the office. Women have been socialized to not speak about money. But this "politeness" puts underpaid staffers at risk of an ignorance of their situation. So, practice speaking openly about salary with a few trusted coworkers. Beyond this, you should know the cost of living in your city and how your salary compares. And you should know your company's policy on raises.
Set up a meeting
Once you are ready, request a meeting with your boss. It is possible that they will feel flustered and/or confused by your request, but don't let their nervousness get at you. As an underpaid worker, you have every right to ask for a raise.
Practice/prepare what you'll say
While others are singing in the shower, you better be verbalizing as if you're already in that very important meeting. After compiling your research, start to piece together your argument. A typed script is not necessary and may hinder your performance. However, practicing aloud with a handful of typed notes can be the difference between success and failure. Make sure to remind yourself of your recent wins and what you bring to your team. Remind yourself why you deserve this.
Make the ask with confidence and graciousness!
The way in which you ask for a raise is just as important as the words you say. Maintain composure, and say simply that you've done your research, and that you are underpaid by x percent. Then, it is important that you leave space for management to gather their thoughts and speak. It can be instinctive to fill silence in an uncomfortable situation, however, in order maintain confidence, it is important that you not over speak. Throughout the conversation, remind your management of the things you love about the company. Be sure to thank your boss for taking the time to listen.

While it is not guaranteed that you will get a raise immediately, it is important to have the conversation. If you're looking for a community to speak to about the process of asking for raises or to compare salaries, Luminary is a wonderful place for likeminded people trying to advance, build, and develop their careers.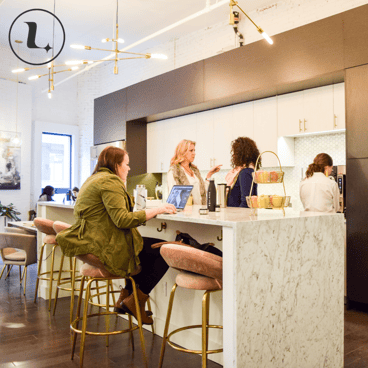 A first-of-its-kind, Luminary is a membership-based global professional growth platform and collaboration hub created for women and male allies to address the systemic challenges impacting women across all industries and sectors. The ultimate career advocate, Luminary provides "real world" advice, tools, and resources to advance, build, connect, and develop through programming and networking opportunities.
With no application process, Luminary is committed to diversity, equity, and inclusion. We invite you to come sit at our table because we are all in this together!