Luminary strives to be intentional with their partnerships and other missions aligning with theirs. This was no different when a connection was made with the New York City-based brand alice + olivia. The contemporary clothing company, with designer Stacey Bendet at the helm, has globally expanded its reach since 2002. Bendet is also the Founder of Creatively, a networking platform for the creative industry, and co-founder of the #ShareTheMicNow movement, which was created in an effort to help amplify black women's voices.
After quickly learning about the many avenues this company supports and values, this was an obvious collaboration waiting to happen. Luminary has recently found an exciting way to incorporate both an interactive and impactful way to gather its members and contribute to the broader good - shopping with a purpose.
Trying to amplify the saying, "put your money where your mouth is," what better way to network and shop than by doing it with intent. Luminary first hosted a fashion field trip for its members with their partners at Ted Baker, the London-based British fashion brand earlier this year. Luminary members and guests received 10% off their entire purchase, 10% of the proceeds went towards Girls Inc. NYC, an independent, 501(c)(3) nonprofit, delivering life transforming programs to girls, young women, and gender-expansive youth throughout New York City.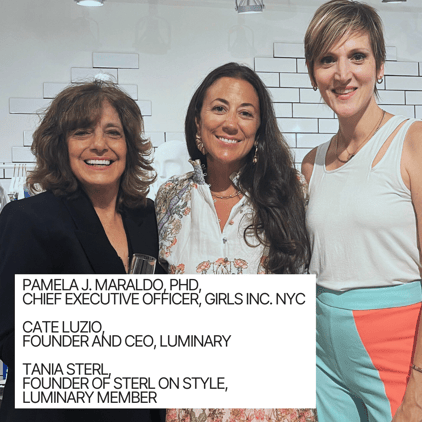 After finding much success with Ted Baker, raising over $1,200 during the two-hour shopping event, the anticipated partnership with alice + olivia felt like another successful event to come, and that's exactly what happened. With the same offer, this past Thursday, Luminary members and guests raised over $1,000, with 10% going towards Girls Inc. NYC once again. A founding member of Luminary, Tania Sterl, Founder of Sterl On Style, joined in as the lead stylist during the event with alice + olivia, bringing a nice 'flare' and collaboration between both brands.
As Luminary continues to build their partnerships, giving back to other communities is part of their mission to make an impact for those in need. Founder and CEO of Luminary, Cate Luzio, sits on the board of Girls Inc. NYC and other various nonprofits and companies throughout the country.