Many women feel uncomfortable bringing their whole selves to work. In a world filled with bias and inequity, it can be hard to exist freely while finding your voice. Some feel safer staying quiet and remaining more anonymous at work, keeping their coworkers from seeing what's under the surface.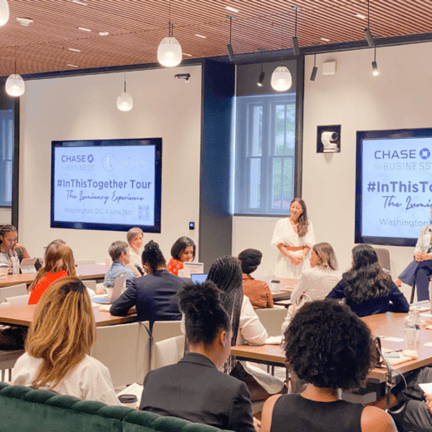 For example, in a heteronormative society, members of the LBGTQ community often feel more comfortable leaving talk of their sexual orientation at the door rather than having to "come out" again and again. Individuals who are disabled may wish to avoid drawing more attention to themselves. And, mothers may feel scared to share details of their home life at the water cooler, for fear of being passed over on assignments. But statistics have shown that diverse workspaces outperform their less diverse competition. And so, it is up to individuals to share what makes them unique.
A diverse team diversifies the opinions, which increases the likelihood of success. And that is why it is so important to bring one's whole self to the table. Using one's voice and speaking out about what one knows and cares about makes for a better, more thoughtful team.
Not to mention, working to conceal oneself depletes vital energy from one's self-confidence. Being true to yourself and sharing your voice is the best option for both you and your career.
So, get to know yourself and then share that self with your world. Tell your co-workers about who you are, and let them hear your story.
Here are three ways in finding your voice in a world filled with bias and inequity:
1. Journal
It's been said before, but that doesn't make it any less true. Journaling is a powerful tool that is also–happily enough–remarkably easy!
An individual connects their words and mind through the simple task of writing down their thoughts. Those who journal regularly better understand how they think. And therefore, they know how to communicate more honestly and freely.
Journaling is an invaluable tool in finding your voice. It can be as simple as writing your stream of consciousness for a few minutes, or as structured as responding to journal prompts. Regardless, if one takes the time even once a week to sit with their thoughts, the payoff can be extraordinary.
2. Share Your Strong Opinions
In the workplace, some people may feel a propensity to stay quiet and maintain "harmony" to keep up an image of "the perfect employee."
In a post-COVID world, in a post-Great Resignation world, we cannot be anything but true to ourselves. And we cannot sit back if we have the opportunity to speak up.
So, don't avoid conflict. Get comfortable with disagreement. Complicate people's perceptions of you, and speak to what feels true for you, based on your experience. After all, that's why you were put in the room: to bring your knowledge to the table.
3. Tell Your Story
It can be scary being different, it can feel vulnerable. And it is true that in many places in the world, being yourself can be dangerous.
The only path towards change involves fighting back and claiming the space to which every person is entitled. Finding your voice at a micro-level means speaking up for yourself, your sexual orientation, your history, and your health when it matters.
Of course, there is nothing wrong with wanting to keep details of your private life out of the work environment, but feel free to take every opportunity to share your story. As Andre Braugher (as Captain Raymond Holt) once said on the popular workplace comedy Brooklyn Nine-Nine, "Every time someone steps up and says who they are, the world becomes a better, more interesting place."
And lastly, surround yourself with people who encourage you to speak up and speak out. Check out Luminary for available programs and events that uplift, up-skill, and propel others forward through all phases of both their personal and professional journeys.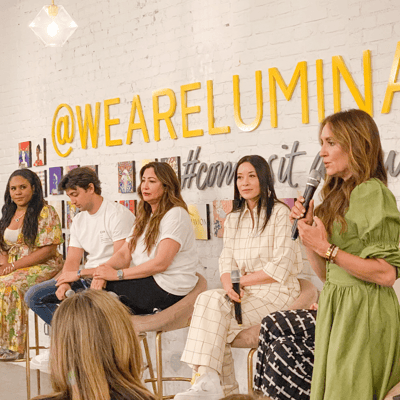 A first-of-its-kind, Luminary is a membership-based global professional growth platform and collaboration hub created for women and male allies to address the systemic challenges impacting women across all industries and sectors. The ultimate career advocate, Luminary provides "real world" advice, tools, and resources to advance, build, connect, and develop through programming and networking opportunities.
With no application process, Luminary is committed to diversity, equity, and inclusion. We invite you to come sit at our table because we are all in this together!