Ditch the conventional thinking that you have to sacrifice one to get the other.

You did it! You landed the job offer at that company you've been interviewing with for the past month, and you can't wait to get started. Now, you're feeling stressed out because you want to ensure you'll be paid a fair salary. It's not your first job, but this part of the conversation, salary negotiation, is never one you look forward to. It's awkward! It's intimidating! And you really don't want to do it… but you know you'll be much better off once you do.

Old-school thinking goes something like this: you can either work a job that makes you a lot of money or you can follow your passion, but oftentimes you can't have both. In the modern workplace, however, that's just not true. More employees are working from home than ever before, and they're becoming more inclined to leave one job for another if they find a better option. Women especially are making an increased effort to ask for salaries at or above the level of their male counterparts. Benefits, including ample PTO and parental leave, are finally being treated like necessary components to an offer letter instead of luxuries for more tenured employees.

Having a conversation about your salary with a boss you just met can be daunting. But we're living in a time when you should feel empowered to ask for what you deserve. Here are four tips to keep in mind when searching for a job and negotiating your salary.

1. Research

Think about the common threads.

Do your diligence and research specific job titles within the market. Note the commonalities within these job descriptions and salaries. Having knowledge of these key job components will help guide you through the negotiation process to land the job. Make yourself aware of these market trends and use them to your advantage when stating your case.

2. Experience

Think like an employer would.

Employers are looking for the best candidate with the right experience. Depending on the skills you have, this may determine which to highlight on your resume while applying to various job postings. Curate your resume to best fit each job application and include any relevant expertise and skill sets for the role to allow you to stand out.

3. Opportunities
Think outside the box.
Being open to different types of opportunities may help you land the job at the salary you deserve. Not knowing everything prior to starting a role can be a blessing in disguise when it comes to challenging yourself. Don't be discouraged from putting yourself out there. When employers ask for 7+ years of experience and you only have 5, you may possess a standout quality that someone who has 10+ years of experience is missing.

4. Connections

Think of who's in your networks.

You never know what opportunities can arise when asking your connections to work their networking magic and help you achieve finding your next job. Others find joy in helping; why not utilize them by describing your ideal job and sharing your salary range expectations. Having that clear indication of what you're looking for also helps seek out the right type of connections to reach out to.

Finding the right job doesn't have to end with a tradeoff. There are ways to maximize your findings as a job seeker to identify the right fit for you. Make sure to do the research, highlight your most important experiences and skills, think about all your options and interests when searching for new job opportunities, and find those people within your circles who are willing to help and do some searching themselves.
Although finding a job and negotiating a fair wage can be a difficult skill to master, by actioning on each step, you're putting in the work of landing the job you want at the salary you deserve!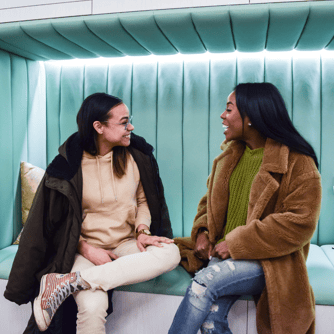 For more useful career resources, check out Luminary for available programs and events that uplift, up-skill, and propel others forward through all phases of their professional journey!

More about Luminary: A first-of-its-kind global professional growth platform and collaboration hub created for women, women-identified, and male allies to address the systemic challenges impacting women across all industries and sectors.
Whether you are entering or re-entering the workforce, a seasoned executive stuck in the middle, embarking on a career transition or entrepreneurship, Luminary is the ultimate career advocate providing "real world" advice, tools, and resources to advance, build, connect, and develop.
This community built is an ecosystem and an economy that is driven by women, for women. Luminary is proud of their commitment to diversity, equity, and inclusion. Luminary is open to all who wish to join, and there is no application process to become a member.
We invite you to come sit at our table because we are all in this together!