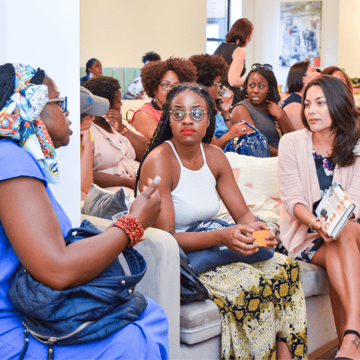 Networking is the new "connecting." Just like connecting with others, networking works in similar ways. In a professional setting, networking is interacting with others to exchange information and develop contacts. The biggest difference between networking and connecting is knowing more people vs. knowing people more. When you network, it's about the volume and creating valuable relationships for your professional journey.
For those who constantly say, "I hate networking," well, we've got a few ways to help you create a more manageable and appealing strategy behind your networking checklist…
1. Attend intentional seminars, conferences, etc.
Finding industry related events can help with your career goals. Knowing that these are the types of people that can help or steer you in a direction within your industry already eliminates half the battle of finding the right people to network with. Taking the leap and attending a big event can jump start your path towards the right situation when looking to make a business or career decision.
2. Set-up informational meetings
When meeting others in a professional setting, make that networking connection and determine your next steps with them. Let them know you're interested in learning more about what they do and how you can work together. Suggest an informational coffee meet-up or a virtual check-in the following week, showing your priority to connect on business or career-based conversations.
3. Utilize social media
In today's world, most people have some form of social media. Whether they are on TikTok or not, that's not what matters. What matters is that you connect in some form to further learn more about that person and to show you're interested in that connection. LinkedIn is going to be the most professional platform to do so on, however, depending on your industry, Instagram or Twitter may seem like a better fit. Regardless of where, connecting in a more social aspect can determine how your professional connection operates. Knowing a little bit more about that person on a personal level can help with those professional conversations down the road.
4. Offer your services
Whether you're looking to work with this person or find out more information on something, knowing what you have to offer should always be on the table. Being the first to offer up any type of resource, time, service, etc. will create a better connection both professionally and personally for that other person. It shows you are willing to help them while asking for something as well. Your willingness can go far when asking for someone else's help or insight.
5. Join networking groups
Networking is not the most natural state to be in for a lot of people. The beauty of networking groups or community groups is having opportunities outside of the "normal" networking scene to meet others in a more intimate setting and to also practice your skills with. Within these communities, there's always new ways to self-promote yourself and ask for what it is you're in need of. Having the support of these groups can help determine your asks in a more clear and concise way. These types of communities usually have like-minded individuals that can bring more opportunities to the surface without having to look too far as well.
These five strategies will help with your overall goals when first approaching networking and developing those professional relationships. These relationships are mutually beneficial, providing opportunities, advice, information, references, and career advancements. Once you learn the necessary skills to effectively network, that thought of "I hate networking" won't be the case, when you start to achieve your career goals.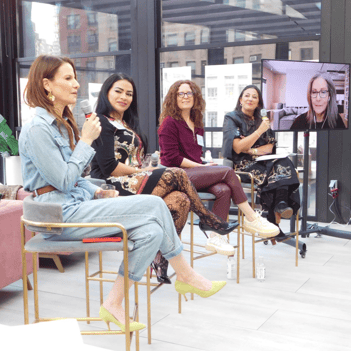 If you're looking to join a community of like-minded people to have networking opportunities, check out Luminary for available programs and events that uplift, up-skill, and propel others forward through all phases of both their personal and professional journeys.
A first-of-its-kind, Luminary is a membership-based global professional growth platform and collaboration hub created for women and male allies to address the systemic challenges impacting women across all industries and sectors. The ultimate career advocate, Luminary provides "real world" advice, tools, and resources to advance, build, connect, and develop through programming and networking opportunities.
With no application process, Luminary is committed to diversity, equity, and inclusion. We invite you to come sit at our table because we are all in this together!