Read the exclusive Inc. Magazine coverage around this acquisition here!
Today Luminary embarks on an exciting new chapter as we proudly announce the acquisition of The Cru, founded by Tiffany Dufu. Luminary is acquiring the brand, its assets, and the operational continuity of its current employees and rebranding as "The Cru empowered by Luminary," effective immediately. Tiffany will remain on as an advisor through the transition, join the Luminary Advisory Board, and continue to be an active member of the Luminary community.
The Cru, an enterprise solution for peer coaching and accountability, launched 5 years ago and has built a loyal following of diverse mid-career women around the world. The Cru's digital platform provides goal-tracking, peer coaching, expert content and insights reports to thousands of individuals and corporate members including Comcast, BNY Mellon, Asana, Justworks, Host Hotels, American Tower, and Extreme Networks to name a few.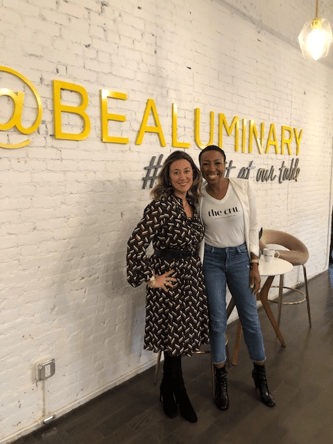 Cate Luzio, Founder and CEO of Luminary, met Tiffany Dufu back in March of 2019 and instantly connected over their mission-aligned companies. Soon after, Tiffany joined Luminary as a member and her team began working and building the company out of its New York City flagship location.
The two began spending more time together, discussing not only the rollercoaster ride of being a founder but sharing personal stories and experiences, straight-talk advice, and support -- along with a healthy dose of laughter and fun.
When Tiffany began exploring the sale of her company, she turned to Cate for advice as both her friend and fellow founder. The more they spoke, the more Tiffany realized there was only one buyer that felt right to take The Cru's mission to the next level.
"Selling your company is one of the toughest and pivotal decisions that an entrepreneur can make," explains Tiffany. "Selling it to your friend and sister founder whose company shares the same mission makes it a whole lot easier. This deal will expand service offerings to our members and will grow the opportunity for our corporate members to retain and advance their employees who they sponsor. Cate is a thought leader in the women's movement, an extraordinary CEO, and an individual deeply committed to catalyzing human potential. I'm confident The Cru is in good hands under her guidance and empowered by Luminary."
This acquisition further cements Luminary's strong position in the market as one of the premier organizations dedicated to providing community, education, mentorship, coaching, and resources in support of women as they navigate their career paths and companies wanting to invest in their employees' professional development.
"Since I founded Luminary, I have put a particular focus on what I call 'women in the midst' which perfectly aligns with The Cru's mission to accelerate the leadership potential of mid-career women," said Cate. "This acquisition is a result of a long-standing partnership between not only our two companies, but the relationship Tiffany and I have shared over the years.Tiffany is an incredible founder, leader, mentor, accomplished author and speaker. I have long since admired and respected her and her work as a fierce advocate for women and girls, making it her life's mission to empower and advance them forward."
Cate continued, "My hope is that we serve as a great example of female-founded, mission-aligned brands coming together to empower forward. Acquiring The Cru enhances Luminary's existing platform and product offerings to both B2B and B2C clients and creates new opportunities for The Cru clients to take advantage of Luminary's extensive suite of solutions for their employees."
This is Luminary's second strategic transaction, following its acquisition of Declare in 2020, further solidifying the company's position as an industry leader in supporting women in the traditional workforce and beyond. Since launching in 2018 following a two decade career in banking, Cate has consistently identified and welcomed collaboration opportunities with mission-aligned entities that enhance and support Luminary's mission to advance, build, connect, and develop women and allies through all phases of their professional journeys -- including the Luminary Partner Network, Luminary Live, and the Luminary Fellowship Program, which supports thousands of women-owned businesses.
To hear more about this acquisition and Luminary's expanded offerings, please email info@weareluminary.com and we'll get back to you shortly!