With their extensive backgrounds and experience, the Luminary Advisory Board members are true industry leaders, and we are honored to have them as part of our Luminary family.⁠
⁠
Meeting on a quarterly basis, the Advisory Board serves as a crucial source of wisdom and guidance for our management team. Their invaluable insights into strategy and thought leadership are instrumental in preserving and growing Luminary's mission and impact.
⁠
Our Advisory Board members are trailblazers in their respective fields, and their collective knowledge allows us to stay ahead of the curve. From technology to finance, marketing to sustainability, their diverse backgrounds provide a wealth of perspectives that shape our organization's direction. ⁠
⁠
We are grateful to have such a dedicated and talented group of individuals guiding us on this incredible journey. Together, we are shaping the future of Luminary, and with their support, we are confident in our ability to make a lasting impact.
Let's meet the advisory board members: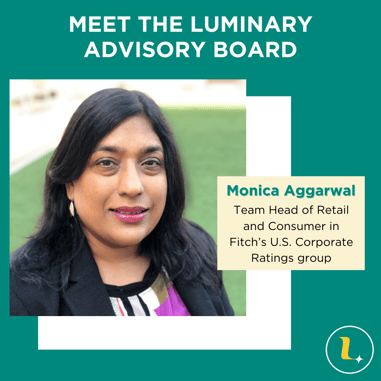 Monica Aggarwal is Team Head of Retail and Consumer in Fitch's U.S. Corporate Ratings group. She is responsible for the sector team covering retail, consumer products, packaged foods, restaurants, and beverages. Prior to joining Fitch in September 2007, Monica spent almost ten years in equity research at Morgan Stanley, Merrill Lynch and Chapdelaine Institutional Equities covering various retail segments. Monica earned a BA in economics from Delhi University and an MBA with majors in finance and international business from Fordham University. She is a CFA® charter holder and a member of the CFA Institute and CFA Society New York. Monica serves as President of the Board for the Fixed Income Analysts Society, Inc. and is on the board of Streetwise Partners, a NY based non-profit organization focused on workforce development.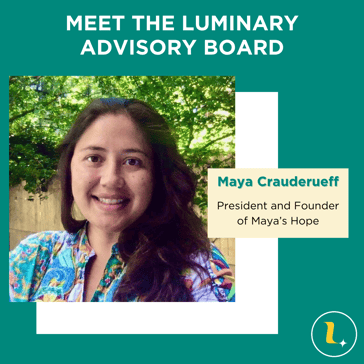 Maya Crauderueff is the President and founder of Maya's Hope. After she lost her mother in 2007, she had come to realize the pain of losing a parent. She began her journey of helping orphans from her first trip to the Philippines in 2008. She later started visiting institutions and orphanages in Ukraine and Maya's Hope has come to evolve to what it is today. She is committed to helping children in great need, despite their circumstances and believes that every child has value. She also is of Filipino and Ukrainian heritage. Previously, she has worked for Metalmark Capital as an Executive Assistant to Managing Directors. She considers herself an international problem solver and enjoys making people smile. Maya has a degree in Piano Performance and French literature from Rutgers University.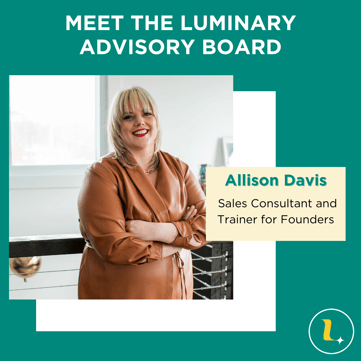 Allison Davis is a sales consultant and trainer for founders who want to hit their goals and keep on growing. Drawing from her 20 years of sales experience at companies like National Geographic and Time Out North America, Allison helps her clients turn random acts of sales into consistent revenue-generating systems — so they can vie for bigger opportunities, show up with more confidence, and have greater impact in the world.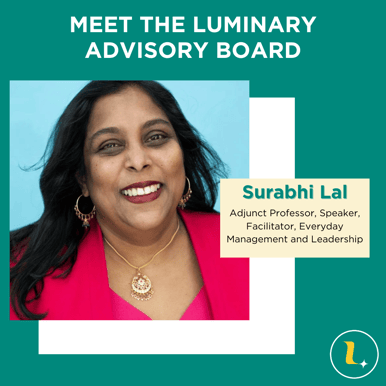 Surabhi Lal is a connector, storyteller, and educator and concerns herself with building a better future of work. Being an only child and a first generation American gave her the skills to connect with and understand others. Her summers in India contrasted with her life in suburban DC and exposed her to issues of inequity, which instilled in her a strong sense of service. Living in the in between, the tension between being an only and that of belonging is where she found my agency, empathy, and commitment to creating inclusive communities and workplaces.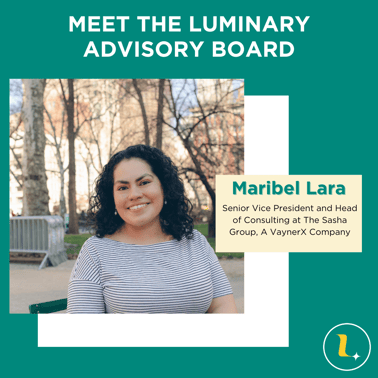 Maribel is SVP, Head of Consulting at The Sasha Group a VaynerX company providing digital education, consulting and marketing services for early and growth stage businesses. She's been in the digital marketing space for 14 years after 8 years of work in higher education. Maribel is passionate about supporting women and immigrant communities and serves as an advisor to Luminary as well as a trustee to Central Queens Academy, a tuition free charter school in Queens, NY.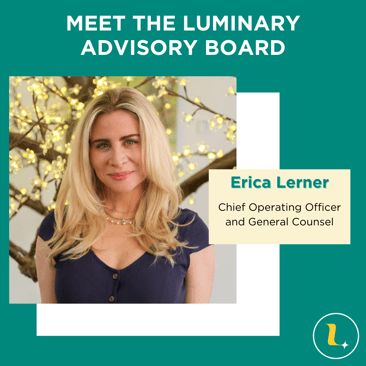 Erica Lerner is an experienced founder in the real estate and health and wellness industries, with a demonstrated history working in project finance, tax and corporate law, international tax, due diligence, and corporate structuring, as well as mergers and acquisitions. After nearly a decade of working in legal and corporate environments, most recently in mergers and acquisitions at Deloitte, Erica sought out new projects to foster her curiosity and develop her strengths and achieve independence. In 2017 she co-founded Xtend Tribeca, a premier fitness studio and the first Manhattan location for Xtend Barre. Since Xtend Tribeca's opening, Erica has been on a mission to provide a home for thousands of women looking for creative and effective workouts in a secure, safe, judgement-free setting. Erica is excited to continue her mission in her role as the Chief Operating Officer of Luminary and to develop a new home for thousands of professional women throughout New York City and beyond.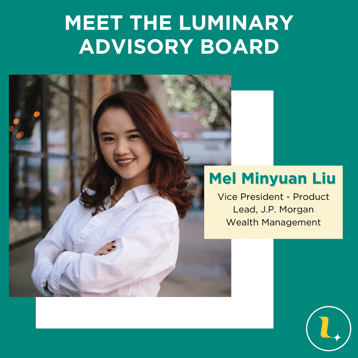 Mel Liu is a Vice President at J.P. Morgan Wealth Management. As a product leader, she is responsible for building and launching industry-leading client-facing products and innovative, personalized experiences across Chase and J.P. Morgan Wealth Management digital platforms. She sets the strategy and vision for products and personalized features that empower Chase clients to make smart financial decisions.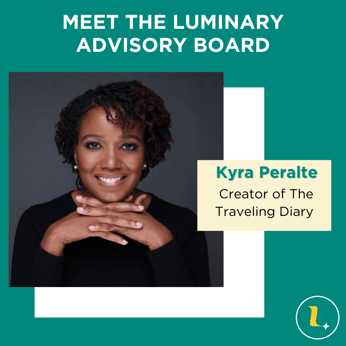 Kyra Peralte is Creator of The Traveling Diary, a global storytelling experience for all women and Indie game maker of Mermaid Quest (available on iOS and Android). Kyra has spent the last two decades creating community for women using various mediums. And her latest venture, The Traveling Diary, is a notebook mailed from woman to woman across the globe collecting stories, memories and anything they wish to share with other women. The Traveling Diary has reached women all over the world who sign up to find authentic connection and look forward to being part of a sisterhood.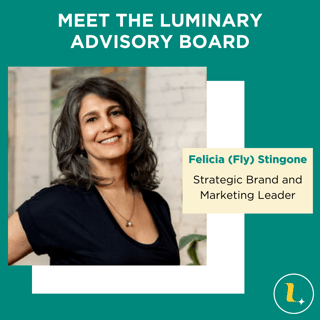 Felicia (Fly) Stingone am a leader who helps organizations drive growth by aligning brand strategy and financial goals. My approach to brand development is informed by my broad experience as a chief marketing officer, advertising executive, not-for-profit board member, brand consultant, communications leader, and fundraiser. Felicia's work helps organizations tap the power of Brand-led Growth which is rooted in the belief that brand is more than a marketing and communications practice -- it is an essential business principle that drives undeniable competitive advantage day-day, year-after year.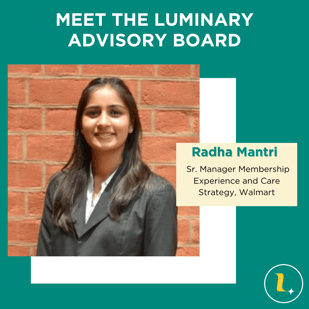 Radha Mantri is the Senior Manager Membership Experience and Care Strategy at Walmart. She has her MBA from Indian Institute of Management Ahmedabad. Radha is a problem solver and a troubleshooter. She strives in project management and seeing through endless company initiatives. Working for Luminary prior to her current role at Walmart, Radha spearheaded various internal consumer-data projects, softwares, and marketing tools.