Networking is a necessary part of modern life, especially when it comes to one's career. However, it can be easy to feel helpless or confused while establishing your network–especially if you're just starting. When you're near the bottom of the corporate ladder, it might feel like everyone around you has access and connections that you don't. And, maybe that's even partially true. But don't let a seeming lack of connections deter you. Any woman can, and should, create a network that will work for her.
A small network is more effective than a large network.
It may seem sensible to assume that the more people you know, the better. But, this is not wholly true. When it comes to networking, less is often more. A study once found that the highest performers were not those with the most extensive networks; in fact, it found that performance negatively correlated with the number of people one knew. So, don't let limited connections get in your way. It may ultimately work to your benefit. For an effective network, one must ensure that the quality of each relationship is excellent, which is easier to do when the network is smaller and, therefore, more manageable.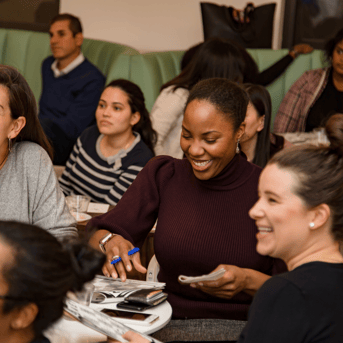 There's a magic number: 150. Determined by British anthropologist Robin Dunbar, 150 is the cognitive limit to the number of relationships the human mind can maintain–wherein both parties are willing to do favors for one another. This is not 150 work relationships; this is 150 relationships total. So, one must factor in the relationships in one's personal life. Considering this, one begins to see why a small network is more effective than a large network.
Ask yourself what you can do for the people around you?
At networking events, so often, everyone in attendance is selling themselves, looking for people who can do something for them. But, if you start by asking yourself what you can do for others first, you will be more likely to establish trust, which will lead you to greater rewards. In other words, it is beneficial to gather a few IOUs under your belt.
Reach out to the people next to you or those you already know and establish something mutually beneficial.
As producer, writer, and director Issa Rae has said, real success comes when you are "networking across." With connections already established, the groundwork is laid; all it takes is a little push in the right direction.
It's important to make sure your small network is an open one.
Left to one's own devices, a personal network will consist of similar people. Which, as established, is not altogether a bad thing. However, diversity and variety are invaluable qualities in a network. Instead of limiting one's scope to their field or industry, developing relationships outside of one's own box leads to higher pay and more promotions, research has shown.
So, in summary: smaller networks are more effective than larger networks, but it is up to you to prove how effective your network can be. Reach out to an old colleague, get to know your parents or partner's networks and ask about their career, attend a networking event and come away with at least one truly meaningful connection. Share your story and your vision and listen to others. You too can establish an effective network.
If you're searching for resources on where to begin networking, there are communities that do just that and focus on different types of industries, people, and life stages. Have you heard of Luminary? Check out available programs and events that uplift, up-skill, and propel others forward through all phases of both their personal and professional journeys.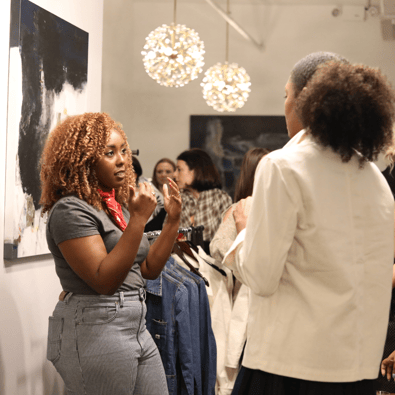 A first-of-its-kind, Luminary is a membership-based global professional growth platform and collaboration hub created for women and male allies to address the systemic challenges impacting women across all industries and sectors. The ultimate career advocate, Luminary provides "real world" advice, tools, and resources to advance, build, connect, and develop through programming and networking opportunities.
With no application process, Luminary is committed to diversity, equity, and inclusion. We invite you to come sit at our table because we are all in this together!