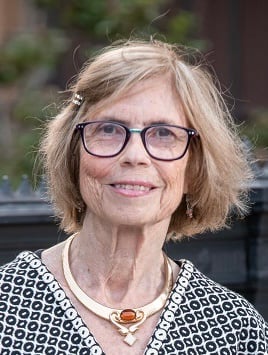 Tell us a bit about yourself! How did you get started with your current career path?
I grew up in a family of dressmakers and always dabbled in creating clothing for me and my family members. After a long career on business and academia I decided to go back to this avocation and turned it into a business. I also attended FIT here in New York City and enhanced my skill set by taking courses in tailoring and decorative embellishments.
How do you define success?
For me success is validating my artistry through having people buy pieces I have created and recognize the workmanship and art in these pieces. My company Neena Zeve Designs specializes in one-of-a-kind fashion pieces for women which are handmade. Using fabrics such as wool and silk as well as using traditional techniques such as beading and smocking to enhance the garments. Another important part of success for me is getting recognition by the industry. At the moment I have achieved that by being invited to join the collective at The Canvas a store at the South Street Seaport which focuses on sustainability. My collection is now at The Canvas and selling well, a tribute to the appeal of my outerwear and evening wear to women from New York and around the world.
What's something you would tell your younger self when it comes to your career now knowing what you know today?
I would tell my younger self to not be afraid of taking risks and to remember the words of a mentor who sat down with me when I was about 13 and told me I could be anything I wanted to be and not to let anyone stop me.
How do you invite others to come sit at your table?
Bringing others in is through sharing my story with others and and showing women that it is possible to be successful despite the many obstacles that are presented to us. I mentored female students who were studying to advance their careers and helped them by listening to their stories and offering guidance and suggestions as well as keeping my door open whenever they wanted to talk with me. These techniques certainly can be useful today as I continue my own career trajectory.
What impact has Luminary made in your career? ex: community, business generated, new clients, career connections, advancement opportunities
Luminary has helped me in numerous ways. I have enjoyed being part of the Luminary community and enlarging my network through meeting other people and also attending various events where I learned about the challenges of being an entrepreneur from other members' perspectives and from speakers who have provided me with insights about career advancement and and skills such as managing one's finances. I have found Luminary to be a supportive environment and a place I can drop in on when I am in the neighborhood or online from a remote location and feel I am being supported.