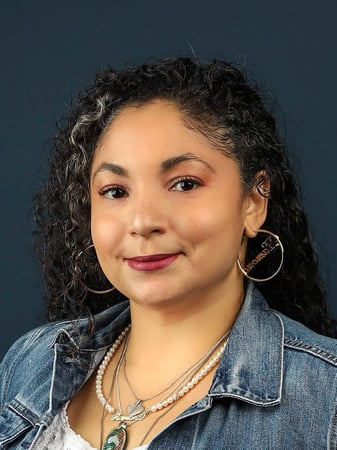 Tell us a bit about yourself! How did you get started with your current career path?
In 2017 my nephew Jadiel came down with meningitis at four months old. I relieved his mom from the NICU so we could sing about stars while he healed. We talked about the moon, and said goodnight to everything. I stayed with Jadiel for a week after his release from the hospital. That week I sang to him, in Spanish and English; I told him where our people came from; what our elders were like; how we were a blend of Africa, Europe and Tainos (the indigenous peoples of the Caribbean). I felt an urge to share everything with him. I was eager to extend the moments we shared during that week. An easy way to do this would have been baby bodysuits that reflected our identity, but I couldn't find any that did so respectfully. When I tried to buy him a onesie that would reflect that he is Dominican, American, Taino… My search results included a onesie with "bad hombre" across its chest. Jadiel's illness warped time for me. I became obsessed with how he would see himself. How the world would see him. What he would inherit from me. A year later he was wearing my first design. Well, his first design, Folklorico. Over the last five years I have expanded our offerings to include books, spiritual aids and gift items. Each is a piece of the mosaic that makes up our identity and helps others begin their path towards remembrance and understanding how complex and beautiful our history is.
How do you define success?
I define success by measuring our impact on our community, environment and when I launched Ojala, I was advised to take shortcuts and think about my bottom line. Making our bodysuits comfy, sizing them differently and using toxic inks increased our cost of goods. so does paying artisans fare wages. But I can't put a price on being proud of our offerings. I opted to make choices that reflect my commitment to the environment, my community, ancestors and descendants. Ojala supports the economic development and social advancement of my community in the Bronx and the Dominican Republic. Sales excite me! and our growth in 2022 made me tear up, but it is our long-term impact that makes me proudest.
What's something you would tell your younger self when it comes to your career now knowing what you know today?
Stop planning. Just follow the breadcrumbs that are sweetest. The best experiences will be those you never imagined.
How do you invite others to come sit at your table?
I empower others by sharing my knowledge and skills ensuring they can join any table they want to.
What impact has Luminary made in your career? ex: community, business generated, new clients, career connections, advancement opportunities
Luminary has exposed me to interesting programming, useful resources, and awarded me a grant!