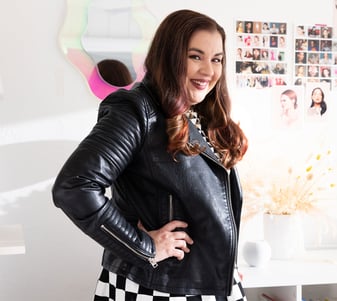 Tell us a bit about yourself! How did you get started with your current career path?
I am a Colombian-American, the first in my family, living in Columbia, Maryland with my husband and cats. My greatest passion is empowering women of color, first-generation Americans, and all women who strive to achieve their dreams, to feel valued and recognized for their accomplishments. After losing my job at Amazon Prime Video, I sought therapy to cope with the sense of loss and confusion that came with losing a job that defined my identity. However, I soon realized that the corporate environment was not conducive to my personal growth, and the lack of representation in every industry I worked in motivated me to start my own company. I recognized that my dream was not to climb the corporate ladder, but rather a dream instilled in me by my parents. I encourage you to reflect on your life and determine what you truly desire, rather than following what society or your family expects of you. After years of feeling like the token Latina in the beauty and tech industries, I realized that being laid off was the biggest blessing of my life. I implore you to ask yourself: What do you want to do, and who do you want to become? During the pandemic, my husband and I moved to Maryland to be closer to his family. I used my first unemployment check to invest in a printer and start my entrepreneurship journey. With the help of mentors like Marisol from Azteca Negra, I identified what I needed to focus on as a business owner and took my company to the next level. I reevaluated my friendships and contacts and spent time only with those who supported my journey. I stopped sharing my plans and began showing up as my authentic self. You are more than capable of anything you put your mind to; you are enough. This is your permission slip to pursue your dreams.
How do you define success?
I define success as the ability to authentically show up for my community every morning by focusing on the Art of Latina Representation. When I receive review from my customers saying they are represented it reestablishes my why I create to make Latinas feel seen and celebrated.
What's something you would tell your younger self when it comes to your career now knowing what you know today?
My definition of success is rooted in my ability to show up authentically for my community every day, through my work on the Art of Latina Representation. When my customers provide feedback that they feel seen and celebrated, it reaffirms my purpose and the reason why I create.
How do you invite others to come sit at your table?
As the founder of Lucia Diaz, LLC, I strive to represent Afro Latinas and Latinas genuinely through personalized and thoughtful Latinx-inspired gifts. I launched the Graduation Card collection after realizing that big-box stores did not offer authentic Latinx representation. I am passionate about bringing Latinx representation to underrepresented industries by collaborating with luxury brands as a confident Latina and woman-owned business.
What impact has Luminary made in your career? ex: community, business generated, new clients, career connections, advancement opportunities
Luminary has given me access to so many incredible Latina Founders and CEOs that have mentored and guided me through my rebrand. Thank you for this amazing community!