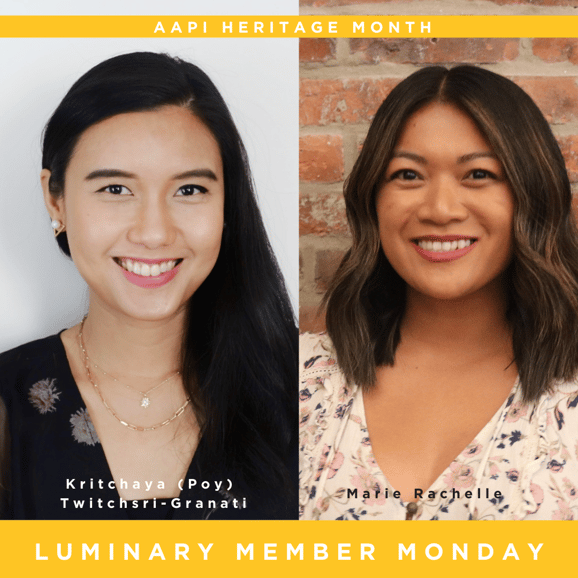 Tell us a bit about yourself! How did you get started with your current career path/business journey?
Kritchaya (Poy):
I originally from Bangkok,Thailand and came to NYC 9 years ago to pursue my passion in Graphic design. I worked as a freelance graphic/brand designer for several years and then attended NYU's Interactive Telecommunications Program where shifted myself to work as a UX designer. On the other side of me, I enjoy craft projects and I love all things paper, I then took a project called "100 days of making" and chose a topic to make paper flowers simply because I hate throwing away flowers and I feel that it's wasteful to buy flowers that will die within a week or 2. I started to work full time and teach paper flower workshop on the side in NYC. During Covid pandemic, I lost my ft job and I took it as a blessing in disguise that I now get to work on my studio full time and I pivoted ever since. Now, It's been almost a year and I woke up happy everyday. I'm grateful to find a place like Luminary that I get to connect, learn and grow.
Marie:
I started freelancing as a social media manager in 2014, went full time in 2019 and everything took off from there! I was asked to organize Freelance Business Week Buffalo and have been doing that for the past three years, won an award at The Freelance Conference for Most Aspiring Freelancers, and was approached to open my town's first co-working space. Amidst the pandemic, I shifted my business to coaching aspiring freelancers and speaking. A phrase I use often is "social media manager by trade, coach by passion and community builder by nature." My journey allows me to move freely in the work that I do in order to connect others, build community, and earn a living doing only what I enjoy. Even though there are challenging moments, I wouldn't ask for it any other way.
What behavior or personality trait do you most attribute your success to, and why?
Kritchaya (Poy):
My positive thinking - Whenever life gets hard I usually find joy and quickly pivot to a different path. It is crucial to find a sunshine in the cloudy day and with this I connect, inspire and save people from their stress at work while teaching my workshops.
Marie:
My drive and ability to connect. Without the drive to work consistently to build a long-lasting career freelancing, it wouldn't exist. Any business owner knows that there are ups and downs and if you're not doing what you love, then what's the point? Connecting others has always been a favorite thing of mine and I continue to do that personally and in business. What goes around comes around I suppose.
What's a mistake you made early on in your career, or in your business, and what did you learn from it?
Kritchaya (Poy):
Didn't put myself first : I used to pull an all nighter to work and didn't take care of myself until I wasn't able to deliver the best work and my health was in a bad shape. I began to restart and schedule myself a healthy routine and self-care session everyday by exercising, having enough sleep, taking a break, enjoying down time and not pulling an all nighter ever again.
Marie:
My mistake is that I didn't do it sooner! I also wish I had someone to guide me - whether it be a coach, mentor, or accountability partner. That's why I do what I do now - to be there in a way that I wish I had when I was starting out.
What's one professional skill you're currently working on?
Kritchaya (Poy):
Digital marketing and VDO editing
Marie:
Public speaking. I love talking and communicating a message I'm passionate about, but I think we can always use lessons on public speaking. Practice makes perfect!
How do you invite others to take a seat at the table?
Kritchaya (Poy):
Ask them what's one piece of advice you wanna give to their younger self and why. Then offer them a drink to join the table and tell their stories.
Marie:
I actually do it! Saying you're open, inclusive, and connected is one thing, but what are you doing each day to act upon those things? I time block times for connection calls, happy hours, networking, referrals (like who can I help today, reach out and connect).
What is one thing you wish you knew a year ago?
Kritchaya (Poy):
The power of networking
Marie:
There are lots of things! But I know that going through those experiences has led me to where I am and who I am today. If I had to pick something, I'd probably go with knowing things will work out, even if it's slower than you'd like it. I think the pandemic taught us all this lesson pretty quickly.
What impact has Luminary made in your career? eg: Business Generated, Revenue, New Clients, Career Connections, Advancement Opportunities
Kritchaya (Poy):
Connections
Marie:
I feel like I'm just getting started! I was introduced to Luminary last year after the Freelancing Females pitch competition and I was blown away. I visited while I was in NYC and wish I could have stayed. The connections, community and programming is incredibly valuable and I tap into it as much as I can remotely. I cannot wait to return! But being a member (and fellowship member at that!) I have been offered to host a session (coming up in June), offered to be featured for AAPI Heritage Month, and joined in on regular co-working-related calls that are invaluable to me.
CONNECT!
Kritchaya (Poy):
Marie: