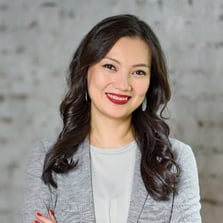 Tell us a bit about yourself? I am the Head of North America at The Fred Hollows Foundation, one of the world's largest and most innovative eye health development organizations that has restored sight to more than 2.5 million people.

How did you get started with your current career path/business journey? After completing my MA, I joined a think tank in foreign affairs that opened up an entirely new world of policy impact and influence to me. I've since supported several purpose-focused organizations either as an executive team member or an advisor. I was invited to help one of the most impactful development organizations build its brand and operations in the US.
What do you find is the most rewarding aspect of what you do? Leading a mission-driven entity is an absolutely rewarding experience. My purpose is to create awareness about the world's largest unaddressed disability – poor vision and avoidable blindness – that affects more than 1/3 of us globally. My colleagues and partners are all inspirational and hard-working – it's an amazing space to be in.

How are you inviting others to take a seat at the table? I am very intentional in engaging individuals to be social justice advocates on a small and large scale. Whether it's being a responsible consumer or creating a global platform for a specific issue, we all have a voice and responsibility to empower ourselves and others through action. I also invest my time and resource in mentoring emerging leaders, connecting individuals and providing advice.

What impact has Luminary made in your career? I greatly appreciate the opportunity to connect with the Luminary community and learn from amazing Luminaries. I've also enjoyed the speakers' series which highlights one of the most inspirational figures of our times. I've also met some amazing women leaders including Cate Luzio and Surabhi Lal.